March 9-10, 2017 American Legion State Drill Team Finals
February 11, 2017 Lee Davis Drill Meet
January 21, 2017 Gloucester High School Drill Competition
January 14, 2017 Military Ball
Military Ball hosted at the Jefferson Lakeside Country Club.
December 10, 2016 American Legion Regionals Competition
December 4, 2016 Hanover Christmas Mother Toy Drive
December 1, 2016 AMI
November 20, 2016 Ashland Holiday Parade
November 11, 2016 PHHS Veterans Day Ceremony
Patrick Henry High School honored all the Veterans who have served our country.
November 5, 2016 Lee-Davis Athletic Meet
Another successful showing for the cadets.
October 22,2016 Potomac Drill  and Athletic Competition
The Potomac Drill Meet was the second competition of the season. The cadets performed exceptionally well against the other units.
October 15, 2016 James River Drill Competition
The James River "Knock of the Rust" Competition was a great way to get the cadets ready to compete in a highly challenging Drill Season.
March 10 – 11, 2016 American Legion State Drill Meet
Patrick Henry had an impressive showing once again at the American Legion State Championships!  With some tough competitors taking the floor, Patrick Henry took first place in Armed Regulation and Armed Exhibition, second place in Armed Inspection, third place in Colorguard and first place overall!  Congratulations Patrick Henry!!  You've made us very proud!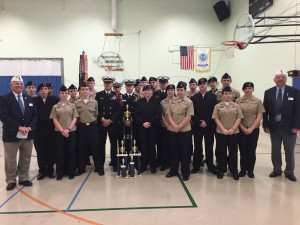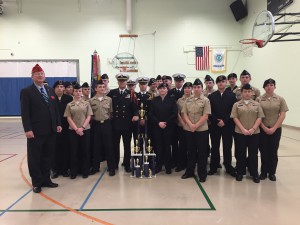 March, 5, 2016 James River Drill Meet
Patrick Henry attended the James River Drill Meet.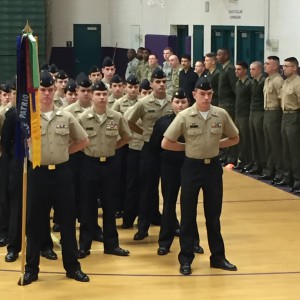 February 13, 2016 Lee Davis Drill Meet
Patrick Henry returned to the Lee Davis Drill Meet this February, taking first place in Inspection  and Armed Exhibition, and third place overall!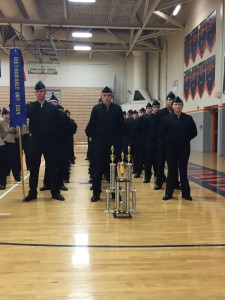 January 16, 2016 Military Ball
Another memorable Military Ball hosted at the Jefferson Lakeside Country Club.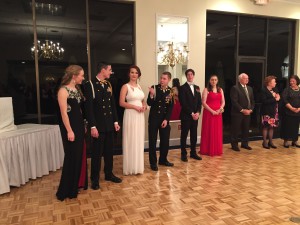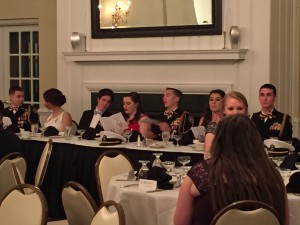 January 9, 2016 Master Gunnery Sergeant Harry Elliot Memorial NS1 Drill Meet, Nottoway High School
Our Drill team attended a very special event this week in Nottoway.  Designed for the NS1's (first year cadets), it helps to build leadership and talent in the unit by allowing only the newest members of the team to perform.  It is also a great leadership opportunity for the junior class to lead the NS1 team.  This event is hosted by the Nottoway High School NJROTC, which had been led by Master Gunnery Sergeant Harry Elliot.  Master Sergeant Elliot, a decorated Vietnam War veteran and Purple Heart recipient, passed away unexpectedly right before Memorial Day weekend in 2015.  Only one day before he was to be honored for his upcoming retirement from the school and two years after the NJROTC program was launched, his passing was much too soon.  His cadets would have made him very proud in the way they carried out this Drill Meet in his memory.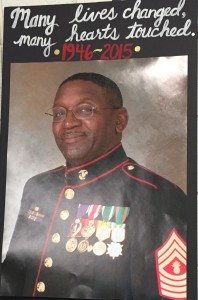 December 12, 2015 King George Drill Meet
Patrick Henry NJROTC took first place in Inspection and Armed Exhibition, and second place in the event overall!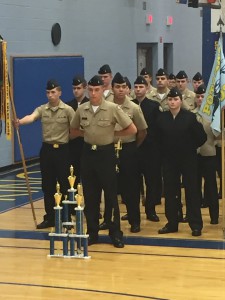 December 10, 2015 Hanover Christmas Mother Visits Patrick Henry NJROTC
We were honored to have the Hanover Christmas Mother, Kay Beazley, visit some of our cadets and discuss the work of the Hanover Christmas Mother and how it benefits families in our community.  The Unit presented the toys collected as well as the money they collected at the toy drive, totaling $1034!  Great job cadets!
December 6, 2015 Toy Drive at the Ashland Walmart
For the third year the Patrick Henry NJROTC has held a toy drive.  This year toys and monetary donations were collected for the Hanover Christmas Mother.  As usual, the Ashland community gave ge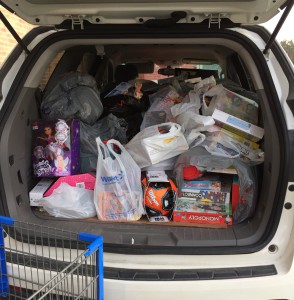 nerously, filling a large van to the point wh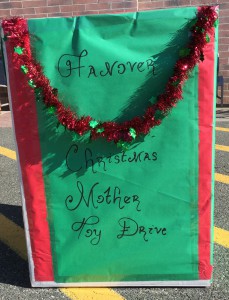 ere there was only room left for the driver!
We give our sincere thanks to the Ashland WalMart, a fantastic partner each year, for welcoming our cadets and making it possible for us to reach so many in the community in such a short time.
December 3, 2015 Annual Military Inspection
Annual Military Inspection is one of the most important events of the JRTOC year.  Cadets are inspected on uniforms, military knowledge and the parade in formation for parents and special guests.  It is always impressive to see how much they are learning!  This year our inspectors were Captain Jim Daniels, U.S. Navy Area Manager, NJROTC Area Five (shown in photo below), and Captain Hardy Josephson, U.S. Navy Retired.  Captain Josephson is the current president of the Richmond chapter of the Military Officers Association of America.
November 22, 2015 Ashland Holiday Parade
Patrick Henry was impressive with 190 cadets participating in this annual tradition!
November 21, 2015 Ft. Lee Army Drill Meet
Patrick Henry had a great day at Ft. Lee, earning the following rankingsL  Exhibition Armed Squad (6 man) first place; Inspection, Regulation Armed Platoon (12 cadets) and Color Guard second place; and Exhibition Armed Platoon (12 man) and Exhibition Unarmed Platoon (12 cadets) third place.  Out of seven unarmed knock-out awards given, Patrick Henry cadets Yushchak, Sipple, Houchens and Brooks earned four of them.

October 17, 2015 James River High School "Knock off the Rust" Drill Meet
In the first Drill Meet of the year, Patrick Henry competed against seven teams and won first place overall.  In individual events, the unit earned first place in Academics, Inspection, Armed Exhibition and Armed Basic.  Unarmed Exhibition won third place.  Congratulations to Cadets Houchens, Bostick and Eger for winning a "knock out" medal.  Great job Drill Team!!
March 13, 2015- A "Three-pete" at American Legion States for Drill Team
   
In a Clean Sweep of every event at the American Legion State Championships, our Drill Team took first place in everything, and then Overall First Place. It was an impressive win. Every time our cadets took the floor, their confidence, precision and professionalism radiated across the room. By the time the Armed Exhibition took place, the whole placed stopped and watched…even people just passing by stopped to see what they were doing.
Back to State Finals yet again! 
The Drill team wins the American Legion event and heads to the state finals as reigning champs for the 2nd year in a row!!!  Patrick Henry came home 1st place overall and placed in the following competitions: UPI (Inspection) 2nd place; Armed Regulation 3rd place, Color Guard 3rd place, and 1st place in Armed Exhibition.
December 8, 2014, Toys for Tots collection at Ashland WalMart
Many thanks to the cadets who took part in the Toys for Tots event.  Their enthusiasm helped to bring in over $1,200.00 in cash donations and close to18 boxes of toys were collected at the event.  A special shout out to Cadet John Byers for securing a "deuce and a half" for the day.  It lent a great touch to the event.

November 23, 2014, Ashland Holiday Parade
The PHHS NJROTC Batallion participated in the annual Ashland Holiday Parade.  The Cadets represented the school well and are always excited to participate in this important community event.
November 11, 2014, Veteran's Day Program at Patrick Henry High School
The NJROTC Cadets along with school administrators, teachers, parents and the entire student body honored US Veterans and special guest Veterans with ties to Patrick Henry at this moving event.